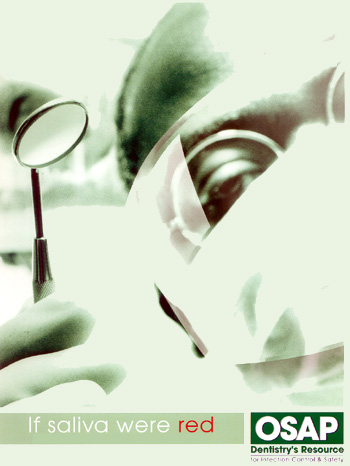 Founded in 1984 and formally incorporated as a non-profit organization in 1985, OSAP is a unique group of dental practitioners, allied healthcare workers, industry representatives, and other interested persons with a collective mission to promote infection control and related science-based health and safety policies and practices. OSAP supports this commitment to the dental workers and the public through quality education and information dissemination.

"If saliva were red"
IF THE VIDEO DOES NOT START PLAYING QUICKLY, RIGHT CLICK ON THE VIDEO SCREEN AND SELECT PLAY/PAUSE!

Named for Dr. James Crawford's landmark 1970s study that confirmed the presence of contamination in the dental operatory, the OSAP-produced video training system "If Saliva Were Red" features an 8-minute video that uses real dental professionals to highlight:

common infection control and safety flaws, the cross-contamination dental workers would see if saliva were red, and how controlling contamination by using personal barrier protection, safe work practices, and effective infection control products, reduces the risk of exposure.

THIS VIDEO REQUIRES THE WINDOWS MEDIA PLAYER
CLICK HERE TO DOWNLOAD